Landscaping Services in New Jersey
Susan Schlenger Landscape Design provides residential landscaping services for various types of properties, from small gardens to large-scale properties in New Jersey and beyond.

Whether you are looking for an outdoor patio (with optional, exciting bells and whistles), a swimming pool design, plantings, driveway designs, retaining walls, etc. I have the experience and expertise to provide any of these services and so much more.

Our landscape architectural drawings provide a visual medium to actually see the design and the crucial details that make it special and unique. In addition, we offer 3D renderings and animations done in Sketchup as a further way to help clients visualize the design.
Pergolas
Arbors
Trellises
Walkways
Steps
Walls

Seat walls
Patios
Terraces
Perennials
Plantings
3D Designs


Pools
Ponds
Waterfalls
Lighting
Grading
Drainage


Pergolas
Arbors
Trellises
Walkways
Steps
Retaining Walls

Seat walls
Patios
Terraces
Perennials Gardens
PlantingDesigns

Swimming Pools
Ponds and Streams
Waterfalls
Lighting
Grading and Drainage
3D Designs

And just for your information, here is a helpful overview on hardscape materials.

Patio Designs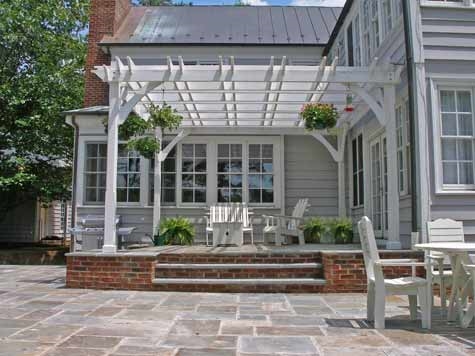 Patio designs can be small or large. How large does it have to be? It depends on your needs and wishes.

A dining table and chairs is usually an important part of the hardscape design. The patio might mostly be used by your immediate family so that a medium size table will do. For lots of entertaining, larger tables and even more than one can function well.

My point is that you need to think how your patio will be used before we can determine how large it should be.


A very rough guide would be that a square patio would measure 15 feet by 15 feet. This would comfortably accommodate a 60 inch round table and chairs, allowing for space to walk around. Patios can be smaller than this and of course much larger based on other criteria.

The patio shape should be designed creatively. Your patio should enhance your house and the house should blend well with the patio. We can design very naturalistic patios that have nice movement. Another idea is to combine curves and straight lines. Perhaps your design looks best with various geometric shapes.
What about just a square patio design? This can actually be quite lovely with the addition of other landscape features such as retaining walls (if needed), seat walls, small fountains, sculptures, and even waterfall ponds going right up to the patio edge. 


Pool Designs
Do you have a particular type of swimming pool in mind? Are you set on a concrete pool or also considering a vinyl liner? Some people just know what they want and others do not.

We like to have a conversation regarding what your thoughts are and also to let you know pros and cons to different types of pools, how we work and the process. After this, a meeting is arranged.


Once we see your property, we can discuss all the aspects, what might work best for you, placement, grades, amenities, etc. Take a look at the beautiful  infinity pool landscape design project shown above. It's one of my favorites.

We integrate the pool into the landscape so that it all becomes one design, rather than a pool here, plants there, a walkway as an after thought, etc. Although we can design the pool and landscaping, you also might consider other landscape pool design ideas such as waterfalls, lighting, landscape structures, spas, beach edges, a pool tanning shelf, etc. Also, an important part of the design is the pool paving and what type of hardscape material to use.
Bluestone can get hot.
Travertine pavers are striking and stay cool on your feet.
Pavers are very popular and come in many colors and designs.
Concrete paving is the most economical - color it for excitement.
All of these materials, including the travertine pavers, can be safely used in New Jersey, including northern NJ.


Other Landscaping Services - Landscape Project Management
All landscape drawings provide the necessary information for the client to proceed with the implementation of the project. However, I also offers Project Management services to further assure the integrity of the design. 

Working solely in the interest of the client, our responsibility is to the homeowner and the outcome of an outstanding project. As an experienced landscape designer, I make certain that such things as plant size and placement, quality of all workmanship, and the specific details of the plan are followed. Please visit our page on choosing the right firm.
For further information please contact me. Whether you are looking for patio designs, pool designs, plantings, or any other landscaping services in New Jersey and beyond, I'd be happy to chat with you. You might also be interested in some of my landscape design books.

Please share this page if you enjoyed it.

Susan Schlenger Landscape Design
> Services