Swimming Pool Designs - NJ



When it comes to swimming pool designs, there are a lot of decisions to be made. However, with the right kind of help, the process can be smooth and the results can be outstanding.
Since there are many things to consider, we believe it's best to start out with someone who is experienced in inground pool designs. In addition, the pool should be integrated into the entire landscape. Some other things which should be considered are:



Natural Swimming Pool Design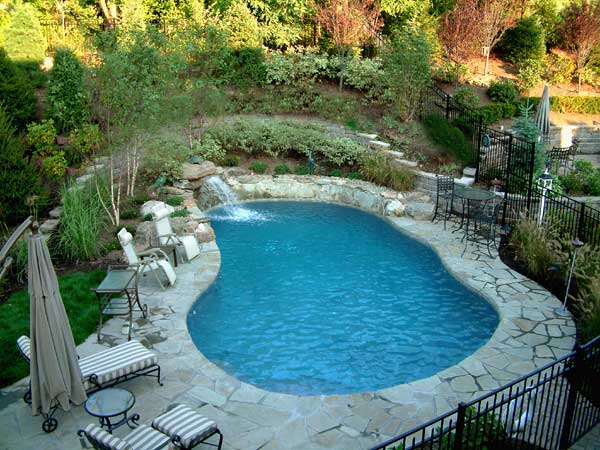 Where should the pool be located?
Can I use any size or would a particular size work best on my property?
What shape should the pool be...naturalistic or more formal?
What about pool paving? How large should it be and what design? Can all paving materials be used in northern New Jersey?
What are my pool paving choices with swimming pool designs?
My property slopes. How should that be worked into the design?
How can I avoid drainage problems?
Should I go with a concrete/gunite or vinyl liner pool?


These are just a few of the many issues when designing a pool. Please take a look at some of our pool design pictures. Also see photos and learn about a vanishing edge pool landscape design!
As a landscape designer with a degree in landscape architecture, I work with all areas of pool projects for a complete design. All landscape design elements are addressed in the swimming pool plans so that the completed project is creative, exciting and functional.


Along with designing a backyard pool so that it makes sense for your particular property, we also can add eye-catching features to make it more spectacular:


Pool Waterfall With Large Boulders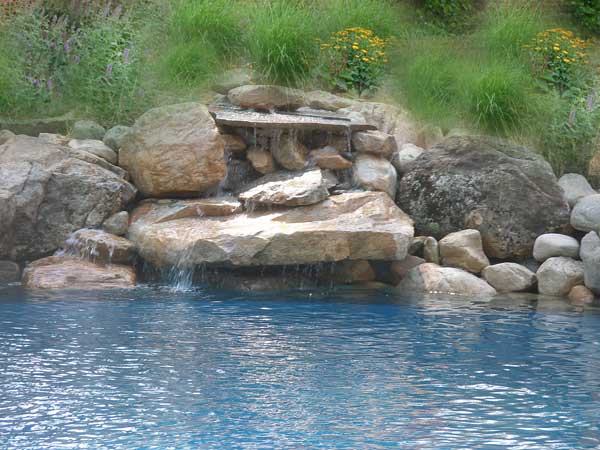 Spas/Hot Tubs - these can be located at the pool edge or nearby. Waterfalls can be part of the structure.
Waterfalls - moving water can be very naturalistic (as the photo on this page shows) or more formal, flowing over straight edges.
Pergolas - these can be designed with the pool paving to create an inviting shady area.
Lighting - nighttime ambiance is a must!
Cabanas - this is an optional feature that can be attractive and functional. It can even be an elaborate pool house.
Seat Walls - designed as part of the pool paving, seatwalls can offer additional seating and also be nice architectural elements in the design.
The sky is the limit when it comes to inground pool designs and ideas!
We work with excellent pool contractors, which we can refer and/or work with during the project. After designing pools for 16 years, I can honestly say that it's not easy to find good pool companies. However, I can recommend those that will not disappoint you. This is also true for the landscape contractors that usually become part of the project.
Please give me a call or email me for any questions you might have about swimming pool designs or if you just would like to chat about options.
We serve all of New Jersey.


Please Enjoy These Videos of My Swimming Pool Projects

Please share this page if you enjoyed it.

Susan Schlenger Landscape Design

›
Services

›
Swimming Pool Designs NJ