Testimonials
"The drawings are a smashing success!"
Federal Executive Institute - Virginia
"We wanted to thank you for the wonderful work you did on our yard. We have been so happy - what a difference! It's been a pleasure doing business with you."
"This is to thank you for the purely lovely work on our patio. After all, without your beautiful sensibilities, we would not know the smell of the old beauty rose. You so thoroughly listened to what we were looking for at the onset, and delivered back this very special space, dotted with some of our ideas, but surrounded by an overall perspective and feel that we could never have imagined. The way you broke up the space...the seat wall...the selection and placement of the plantings...from every angle, from every view. It is simply beautiful..and you, Susan, are very talented." Cisco Residence
"The landscaping is beautiful! I just love it! Thank you so much. I'm delighted!"
Private Residence - Ridgewood, New Jersey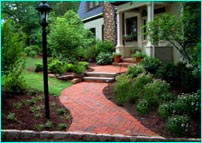 "I cannot express in words how much I appreciate all you do and what an honor it is to work with you."
"Thank you for doing what you do. We truly live in paradise!"
"Thank you for all of your hard work. You have made our home a showplace. It will be greatly enjoyed by our wedding guests and family. Long after the wedding, we will live in our beautiful gardens and remember you."
Private Residence - Mountain Lakes, New Jersey
"Hi Susan,
I wanted to give you a pool update. Now that the pool is in and the landscapers have finished the hardscape I can really appreciate the beauty of your design. It looks wonderful! The things we like best are: scored concrete - great suggestion - high-end look for not a lot of $. We actually like it better than the stamped. The planter and retaining wall look great. We raised them to seat wall level and the way they "hug" and balance the space is perfect. Pool site selection - this is my favorite! From every window on the back of the house I have a beautiful view of the entire pool. It makes the yard seem bigger and deeper and it's just fun to look at, and I do...a lot."
Private Residence - Richmond, Virginia