NJ Front Yard Landscape Design
This front yard design was quite challenging! However, it just goes to show that even with a steep slope, a landscape can be beautiful with a little creativity. If you have a slope you need to address, see how it can be done with lots of perennials and boulders.
I selected the location and set the elevation of the residence on this very steep, rocky site. The front slope was planted with perennials to create splashes of color. Over 400 perennials were designed into this landscape to produce color from early spring through late fall. The steep driveway is comprised of tumbled pavers, and the welcoming entry is lush with plantings.
Front Yard Ideas for a Steep Slope
This driveway design in New Jersey was done with tumbled pavers. The nice thing about this type of paver is that it has a more stone-like or rustic look. It is also comprised of different colors rather than being one solid color.
Driveway With Pavers and Belgian Block
There are a few things to note about the pavers.
The driveway is also edged with belgian block which is made of granite and set in concrete. The pavers are set in sand.
Purple Leaf Plum trees were used on both sides of the driveway to frame it and give the front yard entry a nice look.
The ornamental grasses you see on each side of the driveway are Fountain Grass. The variety is Hameln which gets to be a nice size. Use this size for a more substantial look. There are a few other varieties but they are much smaller and I rarely use them.
Lots and lots of perennials provide color and texture. The heights vary too for interest.
Notice how most of the plants are done in groups, a minimum of 3, more often 5 - 7 or more of one kind makes for a striking plant display.
Perennials on a Slope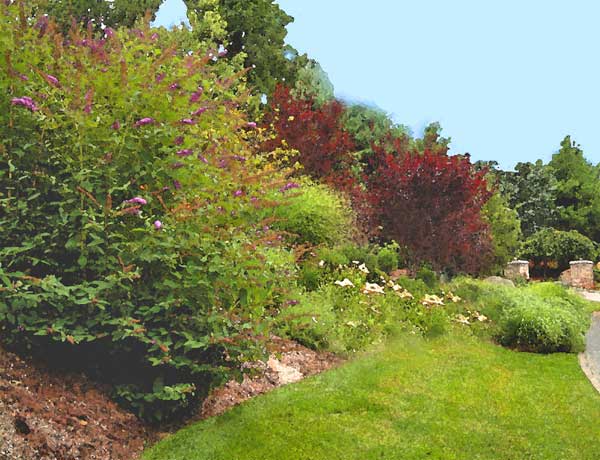 Perennials and Boulders Create an Interesting Landscape Design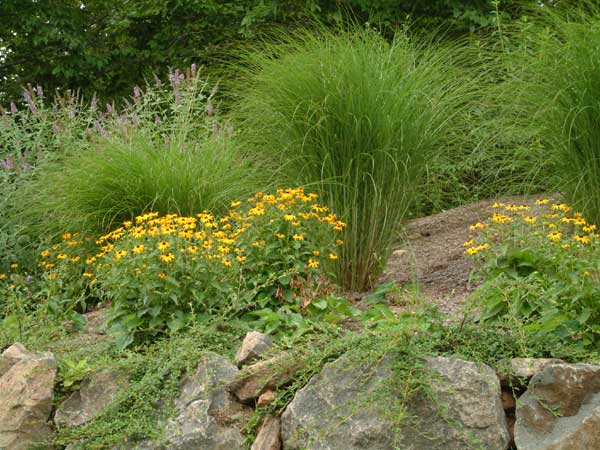 Before
Susan Schlenger Landscape Design

›
Projects

›
NJ Front Yard Landscape Design