Hi...I'm Susan. Let me tell you a little bit about myself.
I received a degree in Landscape Architecture from Rutgers University 15 years ago. But what have I been doing since then and what did I do before? I wasn't always a landscape designer.
Prior to finding landscape architecture and design, I did many things. In my early years, I went to Boston University for a degree in Psychology. Well, except for my children, I never really did anything with that!
In later years I was in retail, which I came to dislike intensely. And finally, I decided to do something I loved, which involved the landscape. It was one of my best decisions.
Since Rutgers, I have designed many types of landscapes, from very small properties to huge estates. Many of my designs have won awards for their creativity, use of color and texture, and attention to spaces, topography, and details.
I specialize in residential design, although I have also created designs for commercial properties such as country clubs, government buildings, and townhouse subdivisions. For example, I did an extensive landscape design for the Federal Executive Institute in Charlottesville, Virginia.
You may have a project that is very simple or one that is complex. Either way, I would be happy to chat with you about it and discuss how I can help you create a stunning landscape.
Thanks for visiting my site!
Member of the American Society of Landscape Architects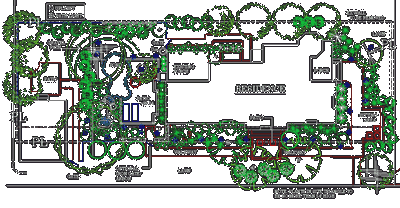 Here is just a small sample of the types of designs I can provide for you.
Patio Ideas
The shape of the patio, placement, hardscape materials, adjacent garden landscaping and even landscape structures become part of the design in the backyard. See our page on patio ideas.
Do you need help choosing paving materials for your patio?I can help you with the advantages, disadvantages and relative costs of various paving choices, and why at times certain hardscape materials are better to use. Bluestone patios and walkways, paver patios, colored concrete designs, brick layouts, travertine pavers and others can all be used and we can help you decide which one is best for your landscaping project.
Pool Landscaping
Whether you are looking for a simple, budget minded design or a swimming pool design with bells and whistles, let's integrate the pool into the total landscaping design. I can also recommend excellent pool companies and landscape contractors so that the project flows seamlessly. (Yes, it can be done!) Please read about swimming pool designs and see some of our swimming pool project pictures.
We recently designed a pool project that was both challenging and thrilling. This special pool design included a disappearing edge, pool beach area, waterfall design, and travertine pavers. I can discuss with you these types of options for an exciting pool landscape design.
Master Landscape Plans
I can provide complete, professional landscape designs for your entire property, incorporating the front yard with the backyard so everything flows smoothly. By being creative, working with your landscaping wishes, and making sure everything functions as it should, exciting master plans are created. Let me know if you need hlep with phasing your project.
Planting Designs
I work within your planting zone wherever you live in New Jersey. New Jersey has different planting zones. Northern New Jersey is generally 6A, while other parts of New Jersey, such as parts of Somerset County, are 6B. The correct plants must be selected for the appropriate zone.
Sun conditions, deer problems, dry soil, wet areas, etc. are some of the other considerations when selecting plants for gardens. Planting on a slope can also be addressed so that soil erosion is solved and a nice planting design is created also.
Perhaps you will be hiring a landscape contactor. On the other hand, you might be installing some or all of the plants yourself. Either way, as a garden designer, I'll specify all plants to be used in the landscape design. Plants are designated on the drawing, and you will also receive a complete plant list. This will include common and botanical plant names, suggested plant sizes and quantities. This is all part of our professional design service.